Here is Dress Detail For Dark Blue Shirt – Fawn Brocade Cigarette Pants – Red Dupatta
Top:
Color : Dark blue
Fabric: Chiffon
Dark blue straight short shirt.
Shirt has been adorned with embroidered neckline.
Round neckline.
Large motifs implemented at the bottom of the shirt.
Dress comes with sheer full sleeves.
Fully embroidered sleeves.
Pearls spray scattered all over the dress.
Pure silk used for linning inside.
Concealed back zip closure.
Bottom:
Color : Fawn
Fabric: Jamawar/brocade
Fawn jamawar cigarette pants.
Fixed waist belt with side zip closure.
Dupatta:
Color  : Red
Fabric : jamawar/brocade
 Red pure chiffon jamawar dupatta.
Finisshed edges.
Embellishment :
Complete hand embellishment.
Embroidery includes Kora, dabka, stones, sequins, beads multiple colors of resham and pearls.
100% pure highest quality imported fabric.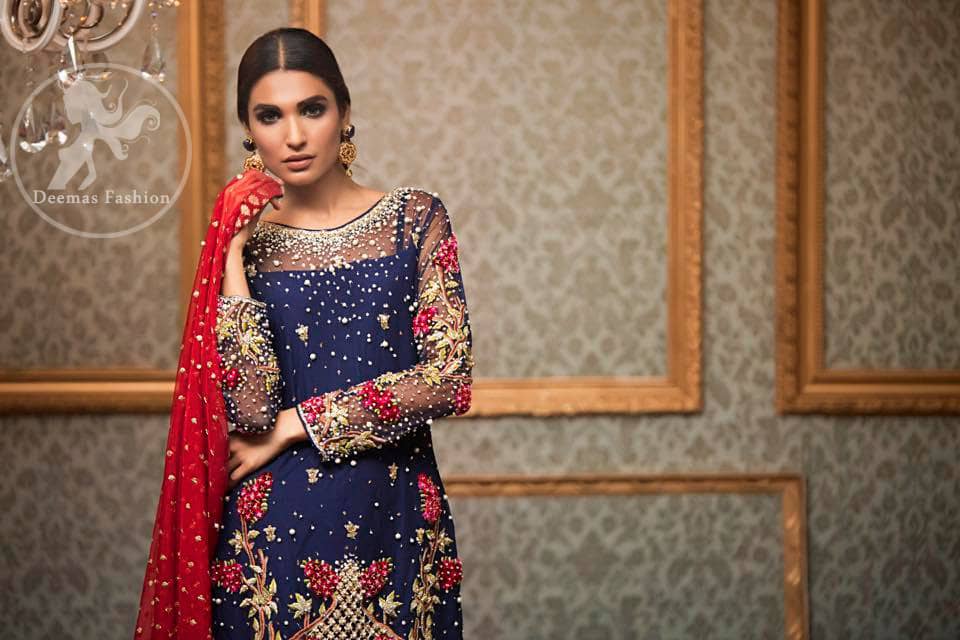 Latest Formal Dress 2016 – Dark Blue Shirt With Fawn Cigarette Pants
                      Latest Formal Dress 2016 – Dark Blue Shirt With Fawn Cigarette Pants